We are excited to announce that DATOS will be part of the USHCC's National Conference–Opening Breakfast Session. The USHCC Conference will be held in Phoenix, AZ from October 2-4, 2022, at the Sheraton Phoenix Downtown. We will share more event and conference information in the coming weeks.
Please note that if you only plan to attend DATOS, you will need to register with the AZHCC.

If you plan to attend the entire conference, you will need to register with the USHCC at

 

www.ushccconference.com

. 
Interested in volunteering at the USHCC Conference?
As a USHCC National Conference Volunteer, you will have the benefit of attending the conference on all three days which includes: workshops, networking receptions, luncheons, and the gala. Attending these sessions will give you an opportunity to engage and listen in on relevant topics providing knowledge in the industries of marketing, access to capital, commerce, and much more. Aside from listening on the sessions, attending this year's conference will also allow for you to network with business leaders from all over the nation and make unique connections and a first-hand look at what goes on behind the scenes of planning a national event, while having fun doing it!
*We encourage you to bring your business cards and ensure you are ready to meet and greet with various business leaders and CEOs from around the country!
We invite you to be on our volunteer team and come join us for this year's 2022 USHCC National Conference as an additional helping hand!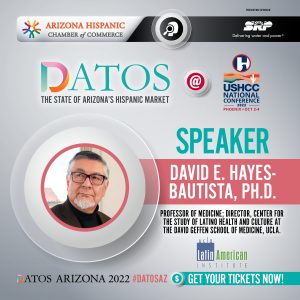 David E. Hayes-Bautista, Ph.D., is a Distinguished Professor of Medicine and the Director of the Center for the Study of Latino Health and Culture at the David Geffen School of Medicine, UCLA. He also serves as the Faculty Director of the Latino Leadership Institute of the UCLA Anderson Graduate School of Management.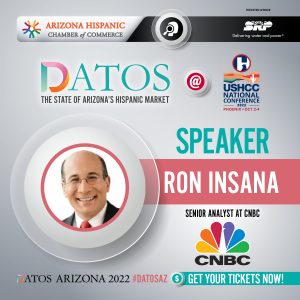 Ron Insana is a senior analyst at CNBC where he discusses the most pressing economic and market issues of the day. He also delivers the Market Scoreboard Report to radio stations around the country.
Arizona Hispanic Chamber of Commerce partnered with Vitalyst Health Foundation to provide a new lens for DATOS. This dynamic framework explores data on Arizona Hispanics with relation to the social determinants of public health including, but not limited to, education, economic opportunity, and health care. There are 12 such elements of a healthy community and every year DATOS will select one for a deep dive perspective. This year in addition to sharing data on the Hispanic population and business as we do every year, we will highlight Economic Opportunity. DATOS provides a comprehensive overview by subject matter experts.
DATOS is a must-attend event for all corporate and small business professionals interested in reaching the fastest-growing segment of the Arizona market. This has become one of our largest and most anticipated events, not one you want to miss! This exclusive opportunity allows you to highlight your support and commitment to the Arizona Hispanic Business community.
Thank You To Our 2022 Sponsors!
25th Annual DATOS Event Highlights
For over 25 years, the AZ Hispanic Chamber of Commerce has published DATOS: The State of Arizona's Hispanic Market, the most comprehensive compilation of research on the impact of Hispanics on the Arizona marketplace. The report is unveiled at the annual DATOS breakfast, which draws over 1,000 of the state's most influential business and community leaders. The list of prestigious past speakers at DATOS includes Dr. Michael Crow of ASU, Monica Gil of the Nielsen Company, and Chiqui Cartagena, author of Latino Boom, I & II.
To receive a copy of the 2021 publication or past publications please contact the AZHCC.