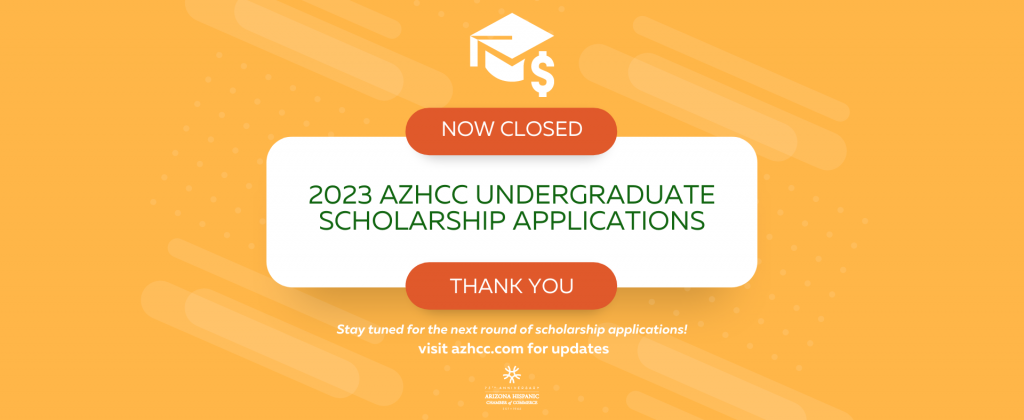 EBLI Scholarship Fund
The goal of the scholarship is to support and guide the next generation of business owners, managers and leaders for a better Arizona. It provides $5000 awards to juniors and seniors in business majors at NCA Accredited schools in Arizona. The students are paired with a mentor and given opportunities to participate in internships with Chamber members.
Eligibility
Undergraduate with a declared major in a business college at an North Central Association Accredited college or university in Arizona with an intent to pursue a career in business. You can see the list of accredited schools here: http://www.ncahlc.org/

Minimum GPA of 3.0 in previously completed college studies
One parent must be of Hispanic heritage
Must be accepted into and enrolled in a Bachelor degree business program

Must be starting the junior or senior year of undergraduate studies
Must enroll full-time
Preference is given to a student applicant who is:
A legally decreed dependent of, or employee of, a company that is a member of the Arizona Hispanic Chamber of Commerce. Search the AZHCC Member Directory.
Has an ADA recognized physical disability
Awards
A total of $5000, distributed in two equal payments at the start of each semester. The award is renewable for one additional year if the student continues to meet eligibility requirements. You will be automatically considered for this scholarship based on your completed general application. To complete the general application, please visit apply on the Arizona Community Foundation website.
Emerging Business Leaders Initiative Scholarship (Business majors)
Deadline: TBD
Tony and Milena Astorga EXITO Scholarship Fund
About the Scholarship Program:
Equality Health and Equality Health Foundation are the seed funder for the AZHCC Tony Astorga Scholarship Fund to honor his service to the community. It provides a one-time scholarship of $10,000 for a graduate student in health care. The scholarship will be administered through AZ Community Foundation.
About Tony Astorga:
Mr. Astorga retired from Blue Cross Blue Shield of Arizona after serving 23 years as the Senior Vice President & CFO. During his tenure as CFO at BCBSAZ, he also held the position as President of BCBS of Mexico (1994-1999) and as the Chief Business Development Officer (2009-11). Prior to joining BCBSAZ, he was a partner with Astorga & Maurseth, a local CPA firm (1976-1987) and a Senior Supervisor with KPMG, a national CPA firm (1970-1975).
Mr. Astorga received a B.S. Degree in accounting with high honors from Arizona State University and has attended executive education programs at Fuqua School of Business-Duke University, Kellogg Graduate School of Management-Northwestern University and Graduate Center for Health Professions-University of California San Francisco.
He currently is the owner/principal of AZTOR Health Management Strategic Advisors where he has been a consultant to various organizations, including BCBSAZ, CTCA Global-Mexico, CPLC, Equality Health, Lattice Biologics, Martinet Medical, Valle del Sol; and is a Board Advisor to Consular Corps of AZ, GlobalMed and TransMed7. He served as chairman of the Arizona Hispanic Chamber of Commerce Foundation (2011-2021) and also has previously served in community leadership roles as co-chair of the Governor's Finance Review Commission, Governor's Film and Television Commission and MCCD ACE Campaign. He has been an active member of the community where he currently serves on various boards including, the Arizona Commerce Authority, Arizona Hispanic Chamber of Commerce (Emeritus), Banner Health Foundation, Catholic Charities (Emeritus), Equality Health Foundation, Heard Museum, and Ottawa University.
Eligibility:
 Graduate school professional studying health care residing in Arizona.
Minimum GPA of 3.0
One parent must be of Hispanic heritage
The awarded student must meet all of the above criteria, and in addition, preference will be given to the student dependent of or employee of a company that is a member of the Arizona Hispanic Chamber of Commerce. Search membership: http://azhcc.com/members
Award:
$10,000 if you are an Arizona resident in graduate school.
Application Process:
Visit the Arizona Community Foundation website to apply online: [web page in development]
The Application will request:
One letter of recommendation from a professor, employer, or community service agency
A copy of the student's graduate school transcript
List of any awards and honors received
List of community service and recent employment history.
Application Deadline:
TBD
Note: In addition to any other terms and conditions, the number and amount of all Arizona Community Foundation scholarship awards and renewals are contingent on the availability of funding.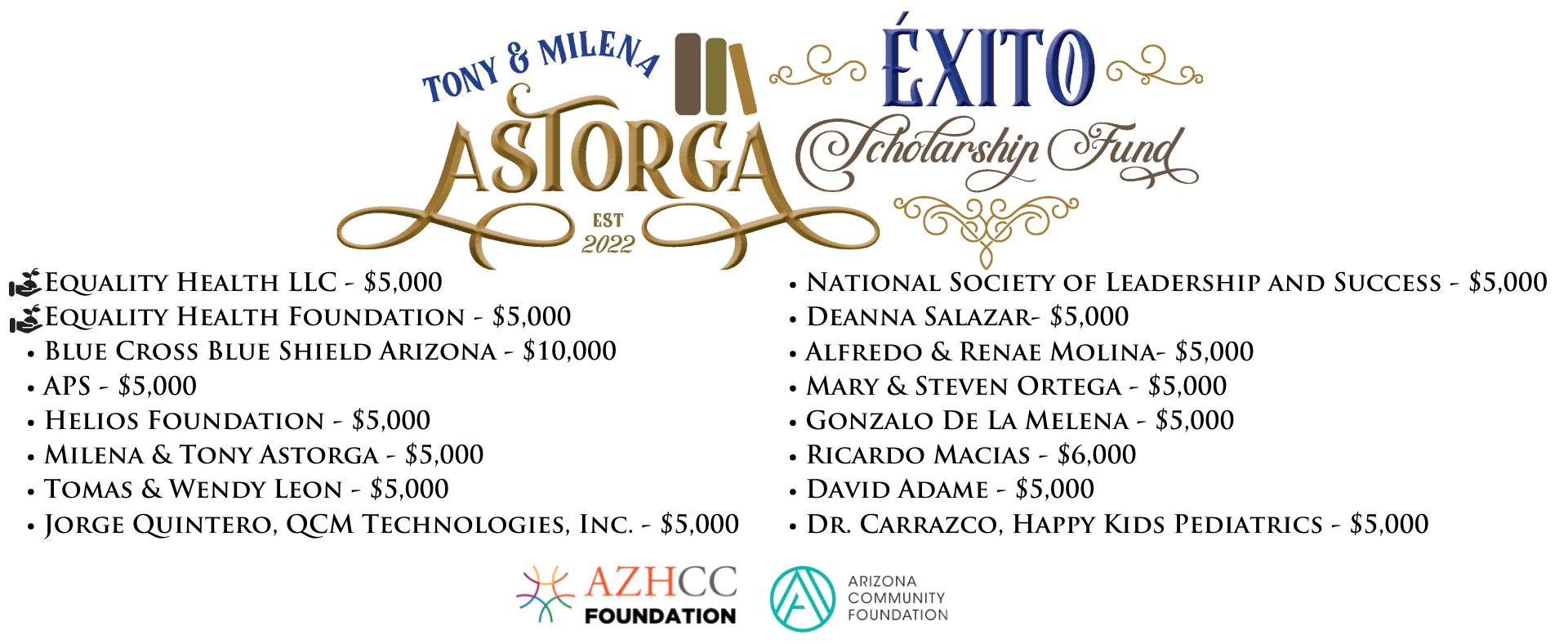 Tony and Milena Astorga EXITO Scholarship (Healthcare graduate programs)
Deadline: TBD
Ed and Verma Pastor Legacy Scholarship
As part of Arizona Public Service's commitment to Latino education, the company pledged $250,000 to establish the Ed and Verma Pastor Legacy Scholarship, which is administered through the Arizona Hispanic Chamber of Commerce Emerging Business Leaders Initiative. The scholarships are aimed at Latino students majoring in a STEM or a Public Policy field at any public university or college in Arizona.
"We want to build on the commitment to education shown by Ed and Verma, recognize them as strong role models, and instill their spirit of public service in our youth," said Don Brandt, Chairman, President and CEO of APS.
Eligibility
Arizona resident
Undergraduate student with a major leading to a career in Public Service/Public Policy OR a major in a STEM field
Financial need as determined by the FAFSA, students must submit a SAR
Preference given to first generation, Latino/Latina students
Note: An interview will be conducted for select applicants after an initial review to determine the awardee each year. If selected as a finalist, students will be contacted about scheduling the interview after the deadline.
Awards
Scholarship amount to be determined after the awardee's financial aid package is reviewed.
Students may reapply each year of their undergraduate studies program for consideration.
THE ED AND VERMA PASTOR LEGACY SCHOLARSHIP (STEM and Public Policy majors)
APPLY HERE   Deadline: May 1, 2023
For more information about AZHCC scholarships, contact our team at (602) 279.1800 or info@azhcc.com
Our Commitment
As the premier advocate for the state's Latino-owned business, the Arizona Hispanic Chamber of Commerce (AZHCC) champions inclusivity, economic development, and collaborating with a broad range of community and business leaders on educational issues statewide.
In 2012, the AZHCC Foundation launched a dramatic expansion of its scholarship programs. Since then, the fund has grown from about $30,000 to nearly $500,000.
In line with this expansion,  the Foundation created the Emerging Business Leaders Initiatives (EBLI), which utilizes the resources and infrastructure of the Chamber and the Foundation and community partners to offer students opportunities from high school to post-collegiate opportunities.
College-age students may apply for EBLI's renewable scholarships ranging from $5,000 to $15,000. Six $5,000 scholarships are awarded annually to incoming juniors enrolled in Arizona universities. As part of the Ed Pastor Scholarship Fund, the AZHCC awards one or more scholarships totaling $15,000 a year.
The Chamber also partners with College Success Arizona (CSA) to provide scholarship recipients with services that help ensure students complete their higher education. We also hire paid interns, many of whom are former AZHCC scholarship recipients, and refer students to internships with our corporate members.
More broadly, the Arizona Hispanic Chamber of Commerce is committed to boosting the quality of education for all Arizonans, while ensuring that education policy statewide ensures equitable opportunities and resources for the state's Latino student population.
Ed and Verma Pastor Legacy Scholarship
Deadline: TBD