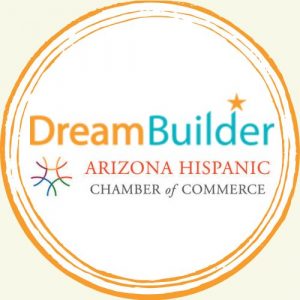 Arizona Hispanic Chamber of Commerce's  - Women Starting Businesses:  The DreamBuilder Project   
The Arizona Hispanic Chamber of Commerce (AZHCC) is an advocate for entrepreneurial women and invests in those interested in starting a business or growing an existing business. The AZHCC has officially partnered with Arizona State University's Thunderbird School of Global Management for the proven 13-step process for creating an effective business plan, with enhanced modules to finance and expand their business. The program has been a major success and continues to expand throughout Arizona, Utah, Nevada, the Navajo Nation, and Southern California.
The AZHCC's DreamBuilder program is easy to navigate, convenient, engaging, and fun, and the modules are completed incrementally, in steps, and over time. The modules take a combined total of approximately 25 to 40 hours to complete. The goal at the end of the program is to have a finished business plan the participant can immediately use to seek out new business opportunities.  Additionally, upon the successful completion of the program, the participant will receive the following:
• A business plan
• A new laptop
• One-on-one business assistance
• Reimbursement for legitimizing their business by way of a Limited Liability Company (LLC) or similar business filing
• One-year basic membership to the Arizona Hispanic Chamber of Commerce and discounts on signature events
PROGRAM ELIGIBILITY
• Women Entrepreneurs
• Women Business Owners (Start-Up)
Please fill out the DreamBuilder application, if you are interested in becoming a DreamBuilder participant in the future.
We will contact you once a DreamBuilder Cohort is scheduled.
Sesily Gutierrez is a DreamBuilder graduate and owner of HotHeadz LLC. Watch Sesily talk about how the DreamBuilder Program has helped her business grow.

Education Forward Arizona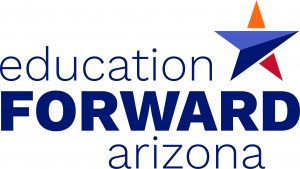 Arizona Hispanic Chamber of Commerce partner, Education Forward Arizona, provides a unique combination of scholarships and mentoring that increase college graduation rates among low-income and first-generation students across the state. Education Forward Arizona does this by providing a wide range of support services, building partnerships with college access programs and scholarship programs, raising the awareness of the importance of college completion, and through the support of more than 350 college access and success organizations throughout the state.
Education Forward Arizona Statistics, as of February 2022.
Students Currently in Program, over 1,300.
Value of Services Provided and Scholarship Dollars Distributed over $20 million.
Graduates Produced: 661
6 year Graduation Rate: 74%
Freshman Retention Rate: 91%
First Generation College Students:  70%
The Arizona Hispanic Chamber of Commerce is proud to partner with Education Forward Arizona.