The AZHCC launched bilingual cohorts of a program with a proven track record that has helped 185,000 people in 110 countries around the world start or grow their small business. The DreamBuilder program is a unique online business training program designed for women entrepreneurs that is easy to navigate, as well as convenient and engaging. The AZHCC used the DreamBuilder technology to help vulnerable women entrepreneurs start and legitimize their business. The program was started by Freeport-McMoRan, they have since partnered with the Thunderbird School of Global Management to create an effective curriculum that teaches women the fundamentals of owning their own business. They have also partnered with Bluedrop Performance Learning to take the curriculum and develop an innovative and engaging online program and platform. The program walkswomen through the process of starting and growing a business, as well as the process of funding their business enterprises.
The program serves the geographic areas of Arizona, Utah, Nevada and the Navajo Nation. DreamBuilder courses are divided into thirteen (13) English & Spanish modules, that take an average of 25-30 hours to complete. The goal at the end of the project is to have a completed business plan that the participant can use in real-time business practices. It will also lay the foundation for securing funding.
PROGRAM ELIGIBILITY
• Women Entrepreneurs
• Women Business Owners (Start-Up)
FOR MORE INFORMATION AND TO APPLY:
Email Info@azhcc.com
Call (602) 279-1800
Education Forward Arizona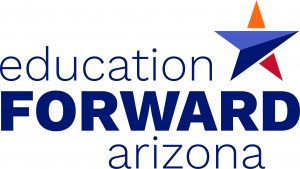 Arizona Hispanic Chamber of Commerce partner, Education Forward Arizona, provides a unique combination of scholarships and mentoring that increase college graduation rates among low-income and first-generation students across the state. Education Forward Arizona does this by providing a wide range of support services, building partnerships with college access programs and scholarship programs, raising the awareness of the importance of college completion, and through the support of more than 350 college access and success organizations throughout the state.
Education Forward Arizona Statistics, as of February 2022.
Students Currently in Program, over 1,300.
Value of Services Provided and Scholarship Dollars Distributed over $20 million.
Graduates Produced: 661
6 year Graduation Rate: 74%
Freshman Retention Rate: 91%
First Generation College Students:  70%
The Arizona Hispanic Chamber of Commerce is proud to partner with Education Forward Arizona.