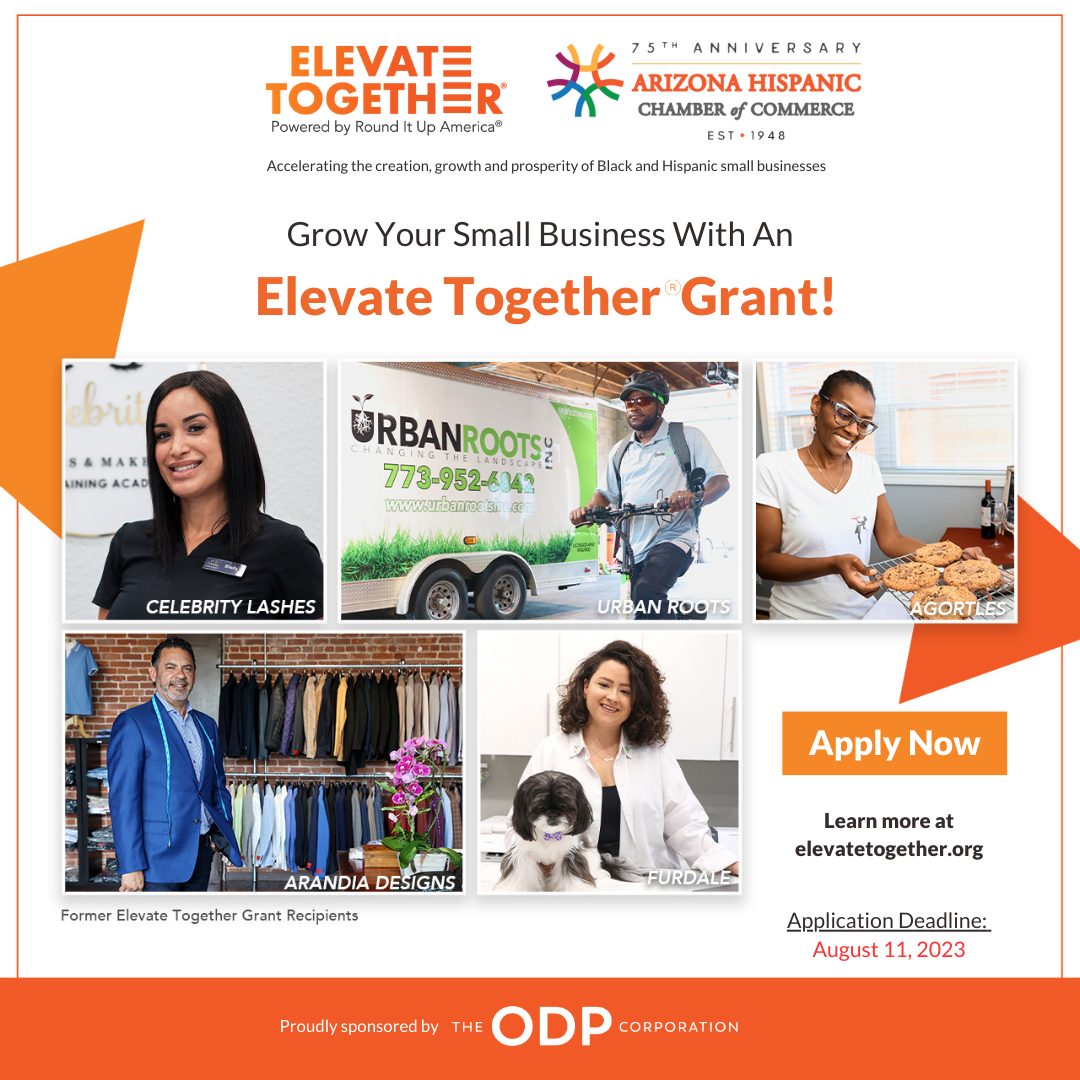 Elevate Together™ powered by Round It Up America® is a nonprofit initiative designed to address systemic discrimination and historical racial disparities in business growth and profitability in Black and Hispanic communities.
Through a partnership with the National Urban League and the U.S. Hispanic Chamber of Commerce, the initiative delivers education, access and aid to Black and Hispanic small businesses. Founded by The ODP Corporation, Elevate Together™ is supported by a coalition of like-minded companies with a mission to strengthen our local communities, foster job creation, and close the racial wealth gap.
With support from community partners and corporate partners like JP Morgan Chase and NCR Foundation, plus Office Depot and OfficeMax customers and associates, the program has expanded its reach in 2022 to provide impactful, measurable and scalable support services and educational opportunities to help small businesses grow in Atlanta, Chicago, Dallas, Detroit, Fort Lauderdale, Fort Worth, Houston, Los Angeles, Miami, Minneapolis, Philadelphia, Phoenix and West Palm Beach.
Black and Hispanic small businesses looking for additional resources to strengthen their businesses are also invited to apply for a cash grant through Elevate Together™ in association with their local participating Hispanic Chamber of Commerce.

Eligibility Requirements:
The applicant must be a small business with 5 or less full-time employees.
The applicant must be a majority Hispanic or Black-owned business with an active EIN number.
The business must have been in operation for at least 9 months from the date that you complete this form.
Qualifying cities/markets at this time include businesses in:
Arizona Hispanic Chamber of Commerce
Latino Chamber of Commerce Minnesota
Greater Dallas Hispanic Chamber of Commerce
Los Angeles Latino Chamber of Commerce
Georgia Hispanic Chamber of Commerce
Michigan Hispanic Chamber of Commerce
Hispanic Chamber of Palm Beach County
Greater Philadelphia Hispanic Chamber of Commerce
Illinois Hispanic Chamber of Commerce
South Florida Hispanic Chamber of Commerce
Typical grant amounts range from $5,000 - $10,000 per business. In addition to a cash grant, small business mentoring is an essential part of being an Elevate Together recipient. Small businesses selected to receive cash grants must participate in a mentor orientation and three mentorship sessions before receiving funding (though mentorship is intended to be longer-term).
Thank you for your interest in applying for an Elevate Together small business grant. Application open from July 28, 2023 - August 11, 2023.
Registration link will be available soon!
The deadline to submit your application is Friday, August 11 at 11:59 p.m. ET.